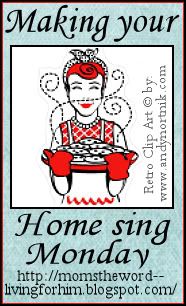 I just love what
momstheword
posted about
Making Our Homes Sing
. As moms, we try to do it all, but sometimes it just
isn't possible
. This is hard for me sometimes. There are days (weeks) that I feel like I don't accomplish anything! I'm busy all day and it feels like all I do is clean, clean, clean...but the house still looks messy. I'm TRYING not to let this bother me as much as it
usually
does. I would love for my house to be an organized, neat and tidy little haven for my family and for any unexpected visitors that drop by. We live in town and this happens a lot--and I love for it to happen!! (what mom doesn't get excited about talking to another adult during her day??) It's just that I wish I wasn't so worried about the stains on the rug I had been meaning to clean while visiting with them. I wish I wasn't so preoccupied with picking up after my children all day and just plopped down and played in the mess with them.
I never regret it when I do!
I have to learn to let go of less important things (like dirty dishes)
sometimes
and enjoy the more important things (like hugs and sloppy kisses)
all the time.
The dishes aren't going anywhere--they'll still be around when I'm 80, but children grow up and often move out. Oh, how my heart aches to type that. I never knew how fast time flew until I became a mother! I will slow down this week and I'll be
okay
with some things left undone. Because I want to fill my little ones with songs of love and songs of joy. Because my little ones spell love: t-i-m-e.
______________________________________________________
I caught the sweetest moment on camera the other day! Sweetness and Prince Charming love to pl

ay with each other while they eat. It's so cute to hear them giggling and jabbering away to one another. Lately, they've been holding hands. Ahhhhh...I know! Doesn't it make your heart squeeze?
P.S. I made a gift for my mother-in-law for mother's day and I can't wait to post pictures tomorrow!